Tools, Equipment & Skills
Beyond the standard handyman tool kit, there are a few vital pieces of equipment you will need to "acquire". It is not worth skimping on quality, because if you spend bugger all, that's what you will end up with.
The Welder
To gain engineering approval for your chassis, you will need to weld it using either a MIG or TIG welder. In purchasing a MIG welder, handyman welders can be purchased for as little as $500, but for that you will most likely end up with a machine that will not perform as you would like, The cheap welders seem to suffer from poor wire feed systems. Believe me, a crappy wire feed system is very frustrating, and you will end up with sub standard results.
The cheaper ones have a lower duty cycle which means they cannot weld for as long without a cooling period. Look for one with at least 120-140 Amps output that runs a high duty cycle (find it in the specs) of at least 60% at full current, and 100% duty cycle at 75-80% output. Having an inbuilt cooling fan will assist in this area. Also get one that takes the large spools of wire, it is cheaper and does not jam as often. Also try to get one that is fully supported at a number of places such as WEA, CIG or BOC, or a large tool chain. Ensure a Binzel handpiece as you can get parts for them everywhere. Get a gas MIG as the gasless models do not have the same weld quality, and they are not much more expensive.
Auto Darkening Helmet
To complement your welder, probably the best investment you can make is a auto darkening helmet. Mine looks the same as a cheap one, but has a lenses that automatically darkens on detecting an arc. They are not cheap, but if you don't buy anything else and you are going to weld up a frame, then get one of these helmets. You won't regret it.
Learning to weld
I had never welded in my life prior to this project. Short of wasting a lot of wire, gas and steel, the best way to learn the art is to enroll in a TAFE course in welding.
I enrolled in a 3 hours a week for 12 weeks course that covered Stick & Mig Welding, Braising and Thermal Cutting. Whilst it only scratched the surface, it taught the basics (setting the current, wire speed, correct angles etc). It was sufficient to build on with some practice.
Make sure you have plenty of practice before you fully weld your chassis. Don't make the mistake I did, and jump into it before you are capable of good strong welds, and end up redoing many of them later.
Cutting steel
Some of the more skilled tradesmen swear by the good old hacksaw, but I am still to experience a perfectly square cut from a hacksaw.
Others have chosen a cut off saw, but they are very noisy and a fire risk, with sparks being thrown far and wide.
Fellow Adelaide builder Mike Laws introduced me to his metal cutting bandsaw, and I was converted. Whilst not cheap, once set up correctly (thanks Mike), these machines deliver an accurate cut with a minimum of noise and fuss. And you can use them at night without straining relations with your neighbors.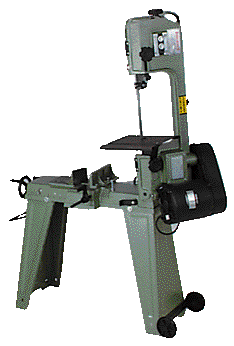 You will also need a reasonable Angle Grinder. I would suggest you get a 4.5" (115mm) unit as that little bit more disk seems to go a long way.
Engine Hoist
After buying my engine, I was confronted with a problem - how the hell do I lift it and move it around ? The obvious answer is an engine hoist, but to buy one it was going to cost unbudgeted dollars. It was not viable to hire one as the engine was going to become a yo-yo over the next few years.
As I was looking for some welding practice, I posted a message on the Locost mail list looking for plans to build a hoist. Tricky Hargraves came to my rescue with a set of plans published years ago in a Practical Classics magazine. With a 5 tonne hydraulic car jack, caster wheels and a pile of steel, it didn't take long to knock up.
There is a copy of the plans on Peter Ogden's website http://locost7.info/files/tools/Hoist+-+Practical+Classics.zip, also check the other great tool projects on Peter's site http://locost7.info.
This is a picture of mine.

Standard Workshop and Mechanical Tools
Trolley jack
Trestles or table for supporting frame/body at a height that saves you r back
Axle stands (4)
1/2 inch drive socket set, Metric and Imperial
Torque wrench of some quality
Rivet gun
Screwdrivers
Drill set and drill sharpener
Allen Key set (Metric and Imperial)
Spanner set (ring and open ended combination) from sizes 10mm to 17mm
Hacksaw
Hole saw
Variable speed drill
Angle grinder (your new best friend)
Bench grinder
Cordless drill to use a electric screwdriver
Hammers
Work bench vise
Various G clamps
Magnetic welding clamps
Various files (round and square)
Large adjustable wrenches
Centre punch
Tape measure
Set square
Soldering iron - at least 25W or gas powered type.
Other tools
This link to Peter Ogden's Clubman builders resource is loaded with DIY projects and good advice on the use of some tools (eg. welding).
You may also wish to consider the following tools, however most of them would be a luxury:
Engine stand
razor wire around the shed to keep the Wife, Kids and Mother-in-laws out
Oxy set for heating
Dancing girls
Air Compressor